Coral Bay - Peyia
Coral Bay is situated on the west coast of Cyprus, about 11 kilometres north of Paphos. Coral Bay was just a beach until the beginning of the 80's. Coral Bay has a number of long white sandy beaches and is thought, by many, to be the most beautiful resort on the island. The resort now has a number of hotels and many bars, pubs, shops and restaurants and a good night life.
Peyia is situated about 3 km approx. from Coral Bay. For the more energetic easy walking distance, however if you wish to be more like the locals then the only way to get around is by car. There are plenty of parking places in Peyia and again if you cannot find one do as the locals do and abandon your car anywhere!!! The main car park is situated on the left hand side of the road (going up the hill with Coral bay behind you) just after the chemist, it is well sign posted.
Facilities in Pegeia are mainly situated on the main road leading into Peyia village. You will find a Chemist, bakery, which serves delicious hot bread first thing in the morning. Butchers, who speaks some English but if you have trouble with the Greek language animal noises will do!!!
There are plenty of taverns to choose from serving a variety of local dishes, my favourite is "Cousins Tavern" which is situated in the centre of the village and they serve an excellent Meze. Other restaurants include "Peyia Tavern", and the "Costas Tavern". My advise to you is to try all the local restaurants during your holiday!!!

Lees verder Over Coral Bay en Peyia
There a Bank of Cyprus in Coral Bay and Hellenic Bank in Peyia square. All exchange money and have an ATM machine for 24 hours cash. Banks are open from 08.00 - 14.30 Monday to Friday, Please be warned the banks are closed on Saturday, Sunday and afternoons.
Behind the church you will find Pegeia answer to Aladdin's cave Philippos Supermarket, everything your heart desires from yoghurt, milk, bread, olives, frozen foods, fresh fruit and veg, kitchen sinks, microwaves ovens, cuddly toys, fondue sets etc, well go and see for yourselves. A new big Philippos Supermarket is also located in Coral Bay road to St. George.
Pegeia village, 16 km northwest of Paphos. In Peyia, do not forget to quench your thirst at the picturesque fountains, which can be found in the beautiful stone-paved village square. 4.5 km from the village, near the fishing refuge, are the ruins of two early Christian basilicas with some very interesting mosaic floors depicting animals. This site must have been an important establishment in Early Christian times. There are also rock-hewn tombs of the Roman period above the sea.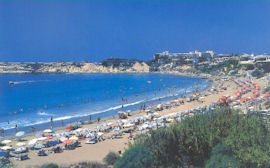 Coral Bay zandstrand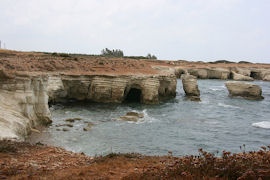 Sea Caves in Peyia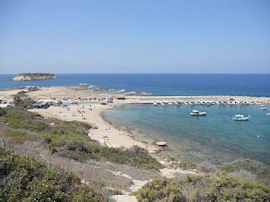 St. George Eiland, Haven