About Cyprus
Cyprus is tucked away in the top right hand corner of the Mediterranean, close to, Asia and Africa. It rightly claims to be a stepping-stone to the continents. Due to the island's position the climate tends to be very warm for most of the year. It is one in eight of the countries in the world that can boast to have 340 days of sun. Whilst the winter season is short, snow does fall on the mountains in January and February.
An island whose rich, dramatic history can be tracked back over nine thousand years. Cyprus has been so coveted over the centuries that it has been invaded and claimed by a fascinating mixture of civilizations from near and far all of which have left their culture and shaped its character.
You will find there are restaurants to suit every taste, sophisticated international cuisine, Chinese, Indian, Mexican and Italian restaurants offering authentic dishes, Cypriot restaurants with many exiting dishes to try: meze, kebabs, mousaka or the humble snack bars offering hamburgers or hotdogs. Not to mention the excellent selection of wines and beers.
Cyprus landscape is one of infinite contrasts, from trips into the delightful fresh air of the mountains, to the heat of the miles of the glorious sandy shores. The tiny picturesque villages where true Cypriot hospitality abounds or the bustling nightlife of the cosmopolitan resorts.
With such a historic and legendary background it has something to offer everyone's taste. It is hardly surprisingly that Cyprus has developed a character, which is quite unique.
More about the country of Cyprus and Cyprus History
Cyprus history can be traced back to the time of Neolithic man in 7000BC. The Bronze Age brought tremendous wealth with the discovery of copper, which led to the "golden age" 2500BC-1100BC. This great fortune was the start of a new life of commercial and cultural wealth and from those ancient times, the country has retained its Greek heritage, language and way of life.
The island for the next 25 centuries as invaded and ruled by more than a dozen different masters, which has enriched its character over the years from widely differing races, cultures and creeds.
Cyprus became a British Colony in 1878 and after several years of struggle it was declared an independent republic through the Zurich agreement in 1960, but choose to remain within the British Commonwealth.
In July 1974 a coup was staged against Cyprus' government by the military Junta, then power in Athens and gave the right to Turkey to invade Cyprus as a guarantor for the constitution. Turkey since then occupies the northern part of the island and the Greek and Turkish communities are divided by the "green line".
Links to more information about Cyprus:
Cyprus Tourism Organisation
Cyprus Official Government Page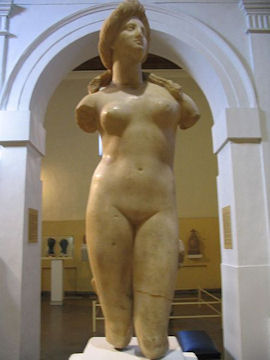 Aphrodite's statue in Cypriot Museum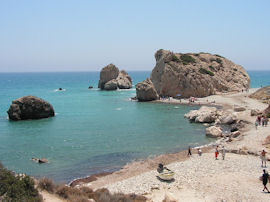 Aphrodite's Rock, Birthplace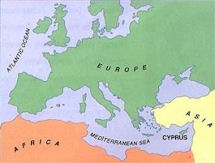 Location of Cyprus in Europe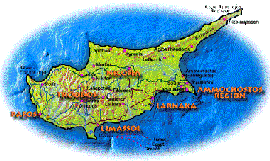 Small Cyprus Map