Information: Polis and Latchi
Latchi
Latchi a picturesque fishing village situated on the North West Coast. Before tourism had discovered Latchi its main industry apart from fishing was the exportation of sea sponges.
The main focal point of Latchi is the fishing harbour sporting fishing boats bobbing gently on the clear waters weighed down with nets, wicker baskets and the catch of the day. Fresh fish can be sampled in one of the many small stone build tavernas surrounding the harbour; a popular eating place for the locals.
Sun worshippers and beach goers will appreciate the sandy/pebbly beaches nestling on the Akamas National Park. Cool waters and gentle summer breezes.
By night Latchi becomes a hive of activity with night cruises, local discothèque and a selection of bars and restaurants to choose from.

Polis
This countryside village derives its name from the Greek word for city, and is the shortened version of Polis Chrysochou which translated mean "the City of the Golden Land" thus named for the fertile land surrounding the river Chrysochou. There are no large hotels so travellers can step into a world away from the usual tourist attractions and enjoy the peace and tranquillity of this small but attractive village.
The main feature of Polis has to be the village square boasting cobbled streets, souvenir shops, banks, jewellers, chemists and bars where thirsty travellers can sample locally made wines, including "Commandaria" a sweet dessert wine favoured by "Richard the Lion Heart" and used as a holy communion wine. Traditional restaurants surrounding the square offer tantalizing home baked cuisine. Ice cream parlours, tiny coffee shops are a few of the delights on offer in Polis.
Walking enthusiasts will love the many walks available in the area including the trail of Aphrodite and Adonis (walk in the footsteps of the gods). Explore the baths of Aphrodite where Legend has it that Aphrodite bathed with her lover Adonis. They say if you bath in the waters at the baths of Aphrodite you will be blessed with the secret to eternal youth and beauty! Enjoy unspoiled scenery of the peninsula and the Akamas National Park.
During spring time the scenery is at its best with an abundance of wild flowers orange and lemon blossom, wild lavender, basil and poppy fields. If all of this has interested you and has made you want to see what Cyprus can offer then our Cyprus villas are a great place to stop.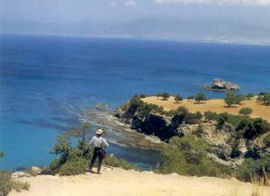 Akamas Peninsula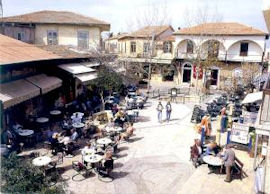 Polis town square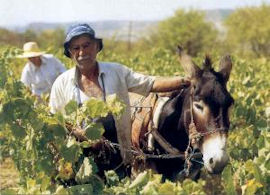 Collecting the grapes, Polis